Your healthy family – a nutritionist's tips!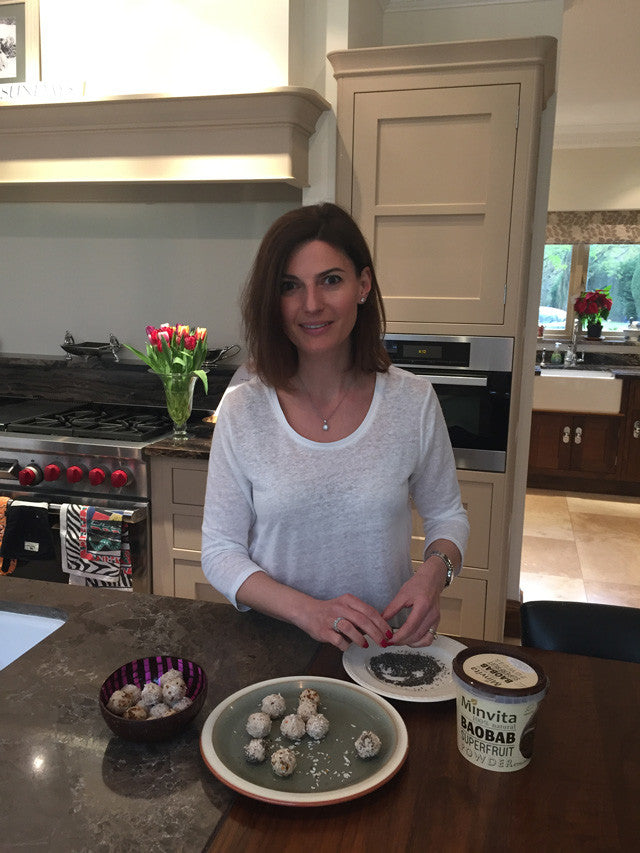 Simple changes for a healthy family, thanks to Healthy for Longer!
Wish you could encourage the kids to eat healthier? Facing some resistance from your partner, or perhaps you just don't know where to start? You're by no means alone, which is why we've invited a true subject expert into our midst today – an expert for whom this topic is both passion and work.
Magda Schellekens (AKA 'Healthy for Longer') is a qualified Nutritionist and Health Coach, with a Masters in Health Management from the Imperial College Business School, alongside her qualification in Personalised Nutrition from the Centre for Nutrition Education & Lifestyle Management. Furthermore, Magda is a working mother and sports enthusiast with a penchant for posting the most delicious looking recipes. How does she manage it all? We'll get to that shortly, along with one of her recipes…
1. THE SIMPLEST HEALTHY CHANGES ALL FAMILIES CAN MAKE… 
* Always start your day with some healthy breakfast. By 'healthy' I mean that your breakfast should preferably include an unprocessed (or minimally processed) non-sweetened source of carbohydrates, combined with some protein. Choose oats, millet, buckwheat and/or quinoa flakes over commercial cereals. Also, include some fruit or vegetables in your breakfast for some vitamins and antioxidants. Add some nuts, seeds, milk, yoghurt or kefir for protein. Eggs are a wonderful choice for breakfast as they one of the highest sources of protein as well as vitamins that are key for thyroid, eyes and brain function.
* Eat regularly to ensure blood glucose balance. Ideally, you should eat three main meals per day and, if you feel hungry in-between, two or even three smaller snacks.
* Eat protein every time you eat – with your main meals as well as with snacks.
* Avoid fried foods and especially any foods fried in highly processed and/or refined vegetable oils.
* Ensure "the balanced plate": half of your plate should be non-starchy vegetables (i.e. all green veg, tomatoes, peppers, mushrooms, etc.), a quarter of your plate should be protein (pulses & beans or and/or eggs, poultry & meat, fish, seafood, dairy) and a quarter should be carbohydrate (bread, pasta, starchy vegetables (parsnip, swedes, potatoes, sweet potatoes), oats, rye, spelt, rice.
* Cook from scratch – you would be surprised how much sugar and detrimental processed fats hide in ready meals!
2. SNEAKY TRICKS FOR FEEDING FUSSY EATERS…WHETHER CHILDREN OR PARTNERS! 
I try to follow the notion of "smuggling goodness into kids (or fussy partners)". Like the recipe enclosed today, I try to include a vegetable in as many recipes as possible, hence courgette in my oats. I use courgettes, beetroots, carrots, squashes and beans in some cake recipes too. Children have no idea. If you use some raw cacao powder the vegetables are often disguised beyond recognition.
Many of my freshly squeezed morning juices contain vegetables, so here I need to use some tricks! I show my children how apple juice oxidises very quickly and turns brown. Next time, I smuggle some green vegetable with the apples and blame oxidation! Whenever there are blood oranges on the market, I put some beetroots in the juicer and blame the blood-red colour on the oranges. I also juice small pieces of turmeric root with oranges and pineapples. White lies, I know, but if they don't ask, I don't even explain myself!
White lies, I know, but if they don't ask, I don't even explain myself!
3. WHY IT'S IMPORTANT TO INVITE KIDS INTO THE KITCHEN…
It is a fantastic way to get them to notice the importance of what goes into their food. Children love to learn 'hands on' and to feel important and appreciated. If you let them help you cook or bake a recipe there is a much higher chance they will then eat that food.
What's more, it is highly likely they will want to repeat that dish and they want to be involved in the future. So, not only do you show them that cooking from scratch is very important but you may very well pass on your enthusiasm for healthy cooking.
During the time you spend with your children cooking a meal, you have a great opportunity to explain why the meal you are creating is good for them. Furthermore, you have a chance to catch up with them on your daily life. A great way to bond!
4. HOW TO TEACH YOUR CHILDREN THE NOTION OF BALANCE…
The best is to gently explain what may be the consequences of eating certain foods in excess. There are fantastic YouTube supporting videos and other visual materials that may be very helpful.
5. ON FAVOURITE FAMILY INDULGENCE FOODS…
I don't think we have an 'indulgence' food as such. We love to snack on nuts and especially pistachios, almonds and walnuts. We all love good hummus and crudités when hunger strikes and dinner is not yet ready. We also love a good platter of raw, unpasteurised cheese with some grapes and slices of sourdough bread or gluten-free oatcakes. And, when a sweet tooth is calling, we love dark chocolate (as I don't even keep milk chocolate at home).
6. HOW TO CARVE OUT TIME TO COOK AND EAT WHEN YOU'RE WORKING, TRAINING FOR RACES, AND LOOKING AFTER YOUR CHILDREN! 
Planning is the answer to this question! If you want to feed your family well and healthily, you ought to carve out a bit of time for planning. This will ease your shopping experience and help with meal preparations.
In terms of training, I am usually the first one up and done with it before breakfast. I don't tend to hang out too long in the evenings for that reason.
AND NOW FOR THAT BEAUTIFUL RECIPE…
Magda's Chocolate Banana Zoats and Nut Butter is live on our recipe page. One to enjoy with (or without!) your family!
Thanks for all your honesty and the beautiful recipe, Magda. We love your advice and are sure white lies are even whiter when they're based on good health!
To find out more about Magda's Nutrition & Health Coaching Programmes, including 'Feed Your Family Right', alongside success stories, events, blog features and recipes, please visit the Healthy for Longer website. You can also find Magda on Twitter and Instagram.