Banana & Maca Nut Loaf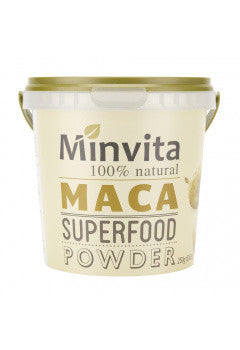 Ingredients
1/2 cup Minvita Maca Superfood Powder
1 1/2 cups flour (all-purpose, gluten-free, wholewheat)
1/2 cup nuts (almonds, walnuts, pecans, hazelnuts)
1 cup sugar (coconut, brown etc - or Stevia if you prefer)
1/2 cup softened coconut oil (or butter, if you prefer)
1/4 cup milk (almond, soy, hazelnut, rice)
3 ripe bananas, mashed
1/2 tsp baking soda
1 tbsp natural honey
1 tsp vanilla extract
1/2 tsp cinnamon
Recipe
Is there anything more comforting than slicing into a loaf of warm, freshly baked bread? Well, we like to think there is. Imagine slicing into a loaf of warm, freshly baked nutty banana bread. Are we right? This recipe is a classic and our Maca Superfood Powder means that it's packed with the goodness of nutrients, minerals and vitamins, too. What are you waiting for – get baking!
1. Preheat oven to 330°C
2. Over a mixing bowl and using a fine sieve, sift together the Maca Superfood Powder, flour, cinnamon and baking soda
3. In a blender, using a handheld mixer or by hand, cream together the coconut oil or butter and sugar. Once the mixture is fully mixed and looks smooth and creamy, roughly chop and add in the nuts of your choice, bananas, milk, vanilla extract and honey then mix well
4. Combine the contents of both bowls from Step 2 and 3 and mix thoroughly to ensure that the wet ingredients are fully combined with the dry
5. Carefully pour the mixture into a lined loaf tray and bake in the oven for approximately 50-75 minutes. Ensure that you test your loaf with a cake tester, then slice and serve once cooled
Tip: Our loaf recipe is so versatile and you can mix and match ingredients to suit your personal tastes. You could try adding dried fruit into the mixture at the end of Step 4, experiment with different nuts and seeds or combine with another superfood or superfruit powder from our range. Our favourite way to serve our loaf is to save half of the chopped nuts at Step 3 and press them into the top of the loaf before baking, which makes for a more photogenic bake!