Raw Aguaje Truffles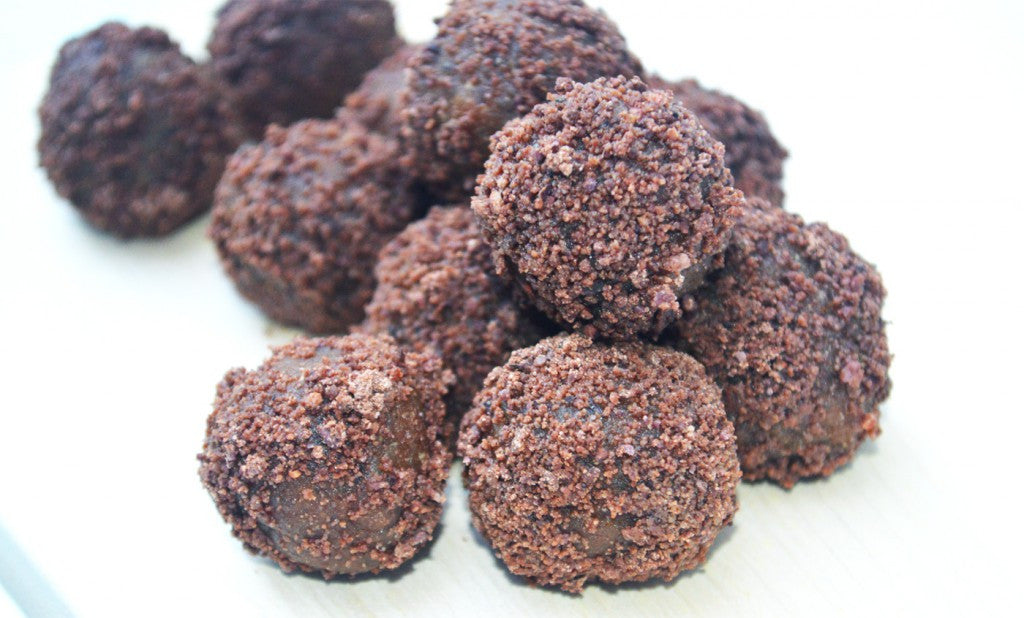 Ingredients
4 medjool dates (organic recommended)
2 tbsp smooth cashew butter (bought or homemade)
2 tsp Aguaje Superfruit Powder
3 tsp Cacao Nibs
3 tsp Vanilla extra
A few drops of fresh lemon juice
A generous pinch of mineral salt
Recipe
Looking for a January cheer-me-up? Well, how about a recipe that allows – or rather calls – for you to eat truffles for beautifying benefits?
We've nicknamed these 'beauty bombs' for good reason…
* Aguaje: offering an assortment of phytoestrogens, vitamins and minerals that boost full body, skin and hair health.
* Cacao: levelling hormones that can throw your complexion off balance, and packed full of polyphenols for a youthful radiance.
* Cashew nuts: containing selenium – a famed skin protectant that can help minimise cellular damage, including that of pigmentation.
* Dates: vitamin abundant, with plenty of skin-restorative vitamin C and glow-boosting fibre.
As if you need any more convincing, these truffles taste incredible. They're rich, tangy (the lemon juice and aguaje add a subtly fruity flavour), chewy and moreish. Your challenge: to not eat the batch in one go!
Quantity: makes approx. 12 truffles…and possibly 1 for luck!
1. Destone your dates before chopping them into smaller pieces and adding to a food processor or mini chopper. Blitz into small pieces.
2. Add the cashew butter, vanilla extra and a few drops of lemon juice, and blitz again.
3. Blend your cacao nibs into a fine powder using a nut or seed grinder.
4. Add 2 tsp of the ground cacao powder to the processor (setting the rest aside in a small bowl), along with the Aguaje and mineral salt. Mix well.
5. Taste a little of the mix and adjust flavours to your preference, adding extra lemon juice for more tang or vanilla for sweetness.
Note: you still want to keep the lemon juice on the 'drops side', rather than spoonfuls or else the mix will become too runny. Your aim is to create a thick, well-mixed dough with a little stickiness to it.
6. When ready, firmly press and roll your mixture into little truffle-sized balls. If you've gone slightly too far with the lemon juice, it's a good idea to squeeze out the excess at this stage.
7. Roll each ball lightly in the bowl of cacao dust before placing on a baking tray, making sure there's space between each truffle.
8. Pop the baking tray in your freezer, ensuring to keep it flat. Leave to set for 30 mins.
9. Allow the truffles to return to room temperature before serving. Keep any excess in an airtight container in the fridge for up to 5 days.
10. Tag us in your pics! We want to see your beauty bombs…and you with your beauty bombs! You can find us on Twitter, Instagram, Facebook and Pinterest. And you may even appear in our monthly Minvita mail!