The secret to better health…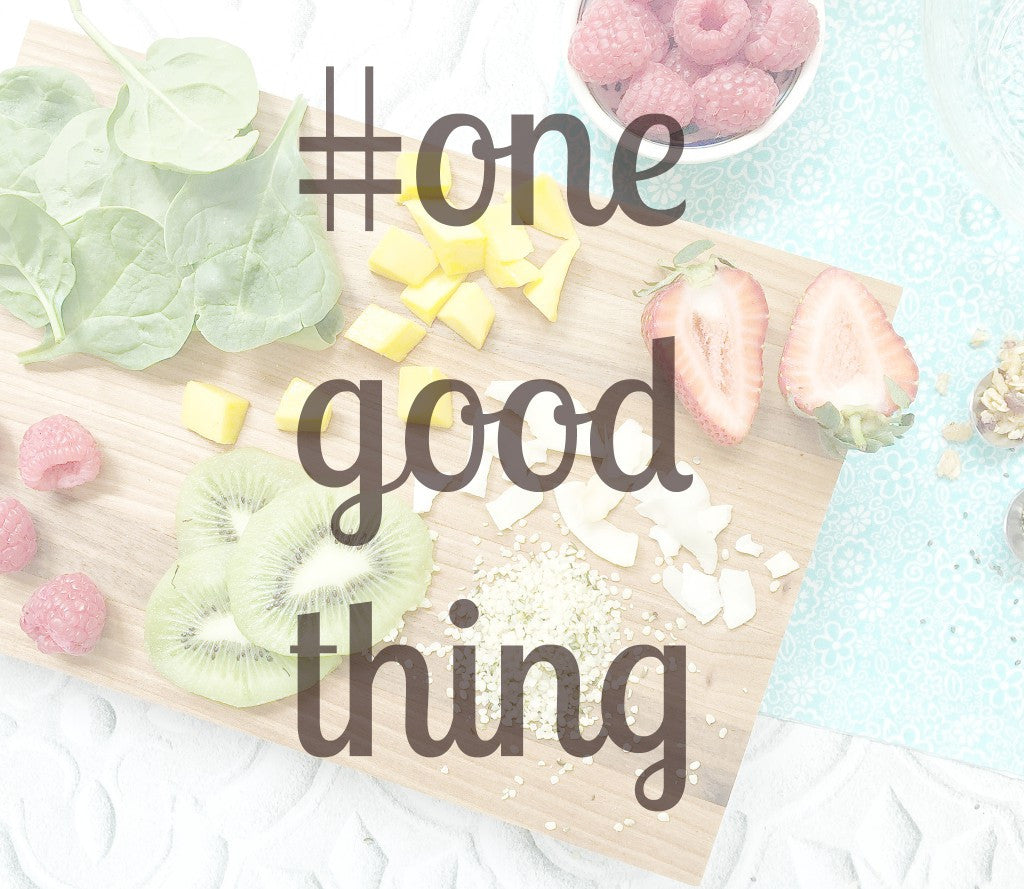 …and a challenge!
Yes, that's right, we've got a challenge for you today. And it starts with what we believe to be the secret to better health.
The beauty of this secret:
1. As with all the best secrets, it really is the simplest thing
2. It's not just drinking more water (though you should be doing that anyway)!
3. Anyone can do it – you start where you are
4. It's not about restriction, and it's certainly not about punishment
Intrigued?
Our secret, and the rule we're living by, is 'one good thing'. That's introducing just one positive health action a day.
Well, we told you it was simple and anyone can do it! Whether you're the junk food junkie, busy mum, student, office worker, or gym-dweller, there's always one good thing you can add to your day.
The 'add' is key to our secret…
We're not asking you to stop doing or cut back on anything. We all know what it's like the minute you start restricting and can't think of anything else, and the way you feel when you slip up!
Instead, we're all for making positive changes based on reward over punishment. And it's a scientifically-proven method as Eating Psychology Coach Lydia McCall explains:
"It's important to focus on reward rather than punishment when trying to make healthier choices. Punishment is linked to high levels of cortisol, a stress hormone that increases your fat, and sugar cravings leading to overeating. Instead, focusing on making healthy changes by rewarding yourself sets you up for success on a psychological and physical level." – Lydia McCall, Eating Psychology Coach and Certified Health Coach
Psst, to let you into another secret, adopting the 'one good thing' approach to wellbeing (and life!) will seriously change the way you think about health in general.
It works on the principle of crowding out; the more positives you introduce, the less space you have for the negative. So, the more rice salads you eat, the less space for pizza! But this isn't just about food…
Some simple ideas to get you started (adapting each to your health level and goals):
* Add a walk to your day
* Juice something
* Pack an extra healthy snack in your bag
* Sprinkle fresh herbs and spices over your dinner
* Introduce a mini evening massage
* Take 10 deep breaths before each meal
Now there's plenty more where these come from, and we'll come back to this in a sec. First, let's turn our attention to you!
How to get involved – your #onegoodthing challenge!
We've told you our secret and now you've got to try it yourself! Join us for the one good thing challenge! Here's how:
1. Sign up to our newsletter via the link at the bottom of our homepage: our next mailer will come packed full of ideas to get you going and keep you focused!
2. Follow us on social media (Twitter/Facebook/Instagram/Pinterest: take your pick, or follow the lot!): we'll be posting inspiration, recipes, and words of encouragement to ALL our challengers!
3. Let us know what you're doing: we can't send words of encouragement if we can't find you, so be sure to @mention and use the challenge hashtag #onegoodthing. You may end up in a future post or newsletter! Bonus points to bloggers who want to share their journey – send us your links so we can spread the word!
Remember what we said about starting where you are? Perhaps you only want to try 14 days, perhaps you want to try a full 30. Whatever you decide, the challenge starts now. Best of luck, and we can't wait to support you!
With thanks to Lydia McCall for the expert insight. Visit her website for more advice on how to have a healthy relationship with food.
Feature images by/adapted from Meal Makeover Moms.