Baobab & Banana Pancakes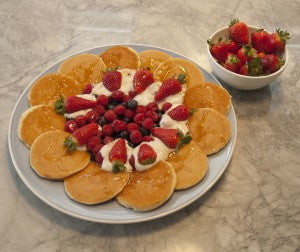 Ingredients
125g plain flour
2 heaped tablespoon of Baobab Powder
2 tablespoon baking powder
1 egg
330ml milk
A pinch of salt
1 tablespoon caster sugar
1 banana
Mixed berries
Natural yogurt
Honey
Recipe
Mash the banana – the riper the better
Put the banana, flour, baking powder, egg, milk, Baobab Powder and sugar in a large bowl then whisk until smooth and quite a thick consistency.
Heat a non stick frying pan (add a little oil or butter if you need) and pour half a ladle full of batter into the pan, to form small pancakes.
The pancakes should be light and fluffy.
Once the top of the pancake has bubbled and bottom has set, flip and cook on the other side.
Repeat until all the batter is used.
Serving suggestions
Grab a handful of mixed berries, a tablespoon of crushed hazelnuts and a spoonful of natural yoghurt to top your pancakes. Why not drizzle some honey over the top!!