Choc Raspberry Energy Oats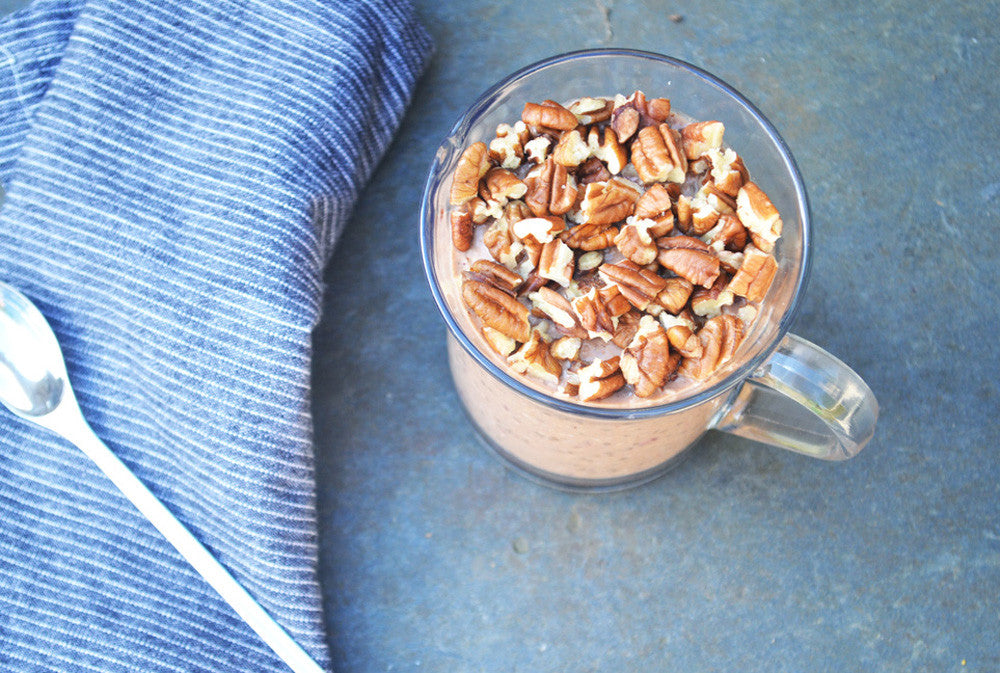 Ingredients
1 cup oats
1 1/4 cup almond milk
2 tsp Minvita Energy Superfood Blend
225g raspberries, lightly broken
2 heaped tsp chocolate nut butter (we used Carley's Organic Raw Chocolate Amazing Almond Super Spread!)
4 tsp chia seeds
Maple syrup to preference
75g pecans, crushed
Optional: 2 heaped tsp cacao powder (grind your cacao nibs in a coffee/nut grinder)
Recipe
We have a confession to make. These overnight oats were meant to be our afternoon snack but we enjoyed them so much we gobbled them straight after the photos!
This recipe has been created with your energy needs in mind. It's both low energy on the making (taking all of three mins to prep the night before a busy day!) and high energy on the eating. Our Energy Superfood Blend combines with slow release carbs in the oats, with extra (super sustaining) protein in the choice of chia seeds and nut butter.
Plus it tastes seriously good…as our lack of willpower attests. Make it for snacks, breakfast and/or healthy puds.
Serves 2…
1. Combine all ingredients bar the maple syrup and pecans in your choice of tub. Pick an airtight container if you'll be taking this on your travels. Give it a good stir!
2. Sweeten to preference with maple syrup. We used one good squidge! This isn't essential, yet is recommended!
3. Cover and place in the fridge overnight (or for at least half a day).
4. Sprinkle with crushed pecans to serve.
5. As ever, tag us in your pics on Twitter, Instagram, Facebook &/or Pinterest!
And don't forget to join our free Monthly Minvita Mail. You'll benefit from exclusive Minvita discounts & giveaways, plus wellness tips & recipes!