Curried Coconut Mushroom & GABA Rice Wraps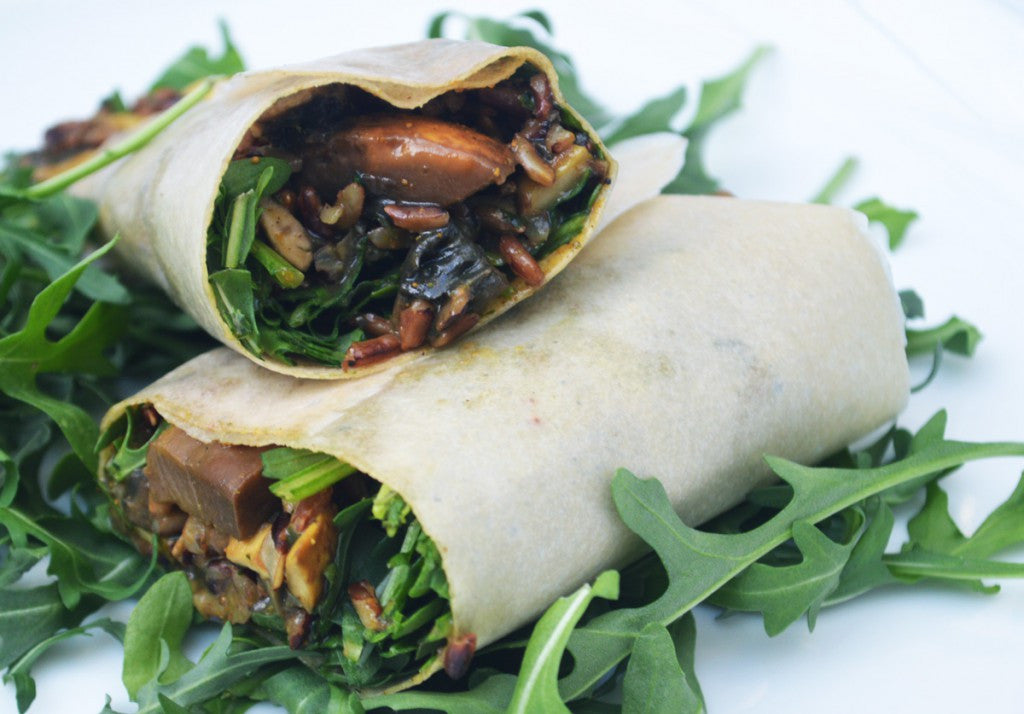 Ingredients
250g chestnut mushrooms
250g flat mushrooms
200ml light coconut milk
2tbsp medium curry powder
2 tbsp ground (or freshly chopped) coriander leaf
2 tsp Minvita Mushroom Superfood Powder
1 level cup Minvita Organic Sprouted GABA Rice
1 pack Julian Bakery Paleo Wraps (we used Original)
A pinch of Himalayan or sea salt
A generous sprinkle of black pepper
1 small bag of fresh rocket leaf
Recipe
What is it that makes wraps so fun? Perhaps it's our inner child that loves piling in the fillings until they're fit to burst -like the Buckaroo of sandwiches- and the joy of finger food that spills out as you bite? Whatever it is, we love getting experimental with ours and our latest experiments have created a great spring lunch and dinner treat.
Introducing our Curried Coconut Mushroom & GABA Rice Wraps!
We've kept these gluten-free and vegan-friendly with the help of Julian Bakery's Paleo Wraps, a fellow Planet Organic stockist. These Paleo Wraps are solely based on coconut meat, water and oil. They're easy to use and taste delicious. And again, there's no sponsorship here – this is just what we're enjoying using!
As you chow down, be happy in the knowledge you're getting a fill of iron, fibre, vitamins B1 and D, and potassium, and that's just from the two Minvita ingredients!
Here's how to make them…
Quantity: makes 5-6 wraps
1. Start by cooking your GABA rice as per the packet instructions.
2. Next, take a saucepan and, on a medium heat, start warming your coconut milk and seasonings (saving back the mushroom powder).
3. Wash and chop both sets of mushrooms into even bite-sized strips or cubes. Adds these to the pan to soften. You'll see the mixture turn a richer shade as the oils from the mushrooms infuse the sauce. Cook for 15 minutes to really create a great blend.
4. Once your ingredients are ready, drain your rice, remove the saucepan from the heat and stir the mushroom powder into the curried coconut mushroom mix. Taste and adjust seasonings to your preference.
5. Time to prep your plates! Pop some rocket on each plate. Lay down a wrap; sprinkle a little more rocket onto it.
5. Top each wrap with 2 large serving spoons of your curried coconut mushroom mix. Roll; halve and repeat. We recommend 2 wraps per serving, but it's your call!
Let us know what you think of them and shoot us your pics!
We'll keep a watch for your tags on Twitter, Instagram, Facebook and Pinterest. And you may even appear in our monthly Minvita mail!
Fancy a freebie in the meantime? Grab yourself some Moringa.