Real and Not Perfect's Fit Cookies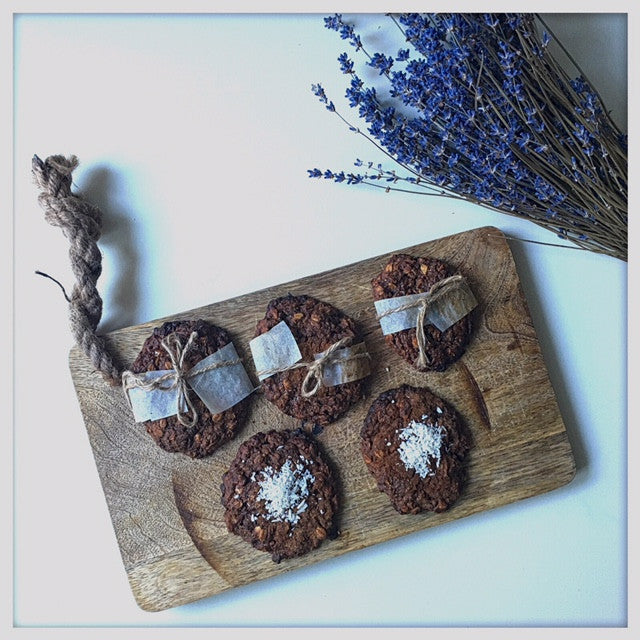 Ingredients
1 cup organic oats
½ cup almond milk (sugar-free)
2 tbsp agave syrup
1 tbsp tahini
1 scoop quinoa flour
2 tbsp chia pudding (leave the chia seeds with coconut milk in a closed recipient for approx. 30min)
2 tbsp vegan chocolate protein powder
1 tbsp coconut oil
1 kiwi
½ banana
1 tbsp sugar-free cacao powder (you can blitz Minvita's cacao nibs into a powder using a coffee/nut grinder)
1 tbsp cinnamon
Recipe
We've followed Elena España as 'Real and Not Perfect' on Instagram for a while now and so value the message she's putting out to the world – fitness can bring a smile, nutritious meals can be playful, and healthy living is not a diet!
Yet it's not always been this way for Elena. In fact, flash back to a year ago and it was a whole other story…
"Hi team, I just wanted to send you a quick email to let you know how much I love your products! It's been 8 months since I've started to learn how to cook healthy. I'm now starting to have my own recipes and this makes me feel really proud of myself. It was not easy to change my lifestyle–as I didn't know how to cook properly–but now it's part of my life and I enjoy it every day!
To motivate myself I've created an Instagram account–8 months ago–so I could share my experience, evolution, and improvement! More than anything, I want to show that this way of healthy life is absolutely not about deprivation and starvation but instead is about embracing a positive, healthy way of eating and life.
I definitely think that finding an inspiration, a role model to follow, the motivation to change and the correct support are the key elements to change your lifestyle. However, finding the correct ingredients is also a crucial element. Chia seeds, cacao, and all other superfoods are in my diet daily and I wouldn't think of any other option rather than Minvita. Thanks for the great support!"
See, here's proof you can make a healthy change at any point you want! Thank you Elena for your kindness and for sharing your Fit Cookies with us all…
Make your batch!
1. Pre-heat your oven to 180C.
2. Using a fork, crush the banana into a bowl until you get a smooth texture.
3. Add the rest of the ingredients and mix with your fork.
4. Place two spoonfuls of the mix per cookie onto baking paper and place this in the oven for 40 minutes (checking approx. every 10 minutes to make sure they don't burn!)
5. Get yourself ready to have a healthy snack!
We will, thanks again, Elena! Everyone, show your support by following Real and Not Perfect on Instagram.
Want to start your summer on a healthy high? Check out our Super Summer Sale & Giveaway on Facebook!