Super Fruit Super Energy Balls!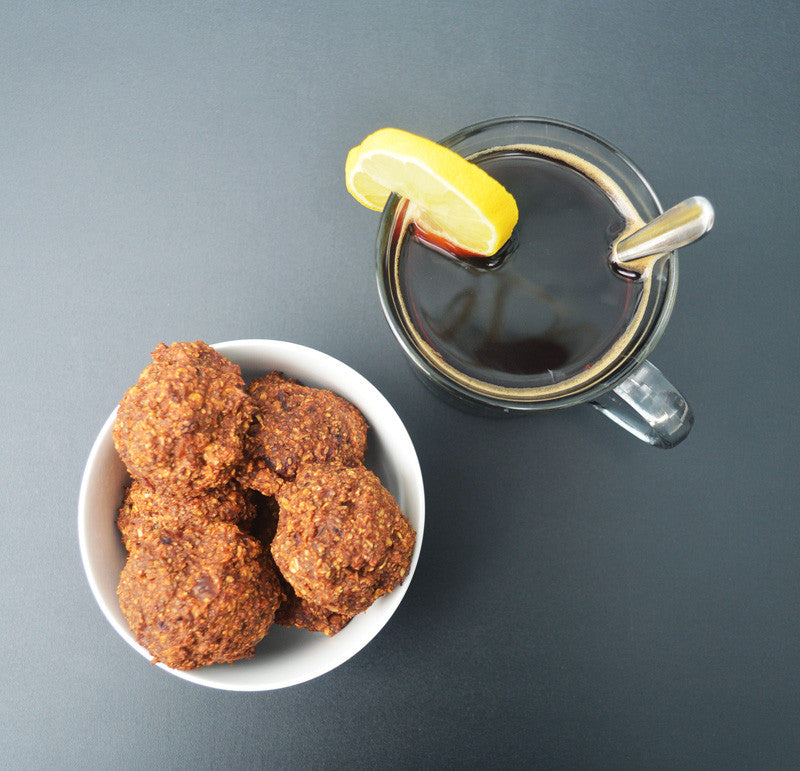 Ingredients
1.5 cups gluten-free oats
1/2 cup chia seeds
1 large ripe banana
2 tsp rooibos matcha powder
2 small-med ripe nectarines
6 pitted dates
Juice 1/2 lemon
2 tbsp almond butter
Recipe
Surfing the California(/Devonshire) waves, chasing the kids around the garden, hiking the Lakes…however you're spending your summer one thing's for sure, you'll need plenty of energy to truly enjoy it. And we get so many enquiries about which of our superfoods provide the biggest boost.
Well, we've combined one of our favourites into these energy balls. They're easy-make, kid-friendly and contain no refined sugar. Nothing refined at all, in fact. Instead, they contain a balance of carbs, good fats and plant-based protein to give you that natural high.
They also happen to be packed full of fruity summer flavour, which lends the touch of sweetness. Ready to get making them?
Makes 10-12 Super Fruit Super Energy Balls
1. Preheat your oven to 180C.
2. Grab a bowl and mash your banana with a fork.
3. Add the oats, chia seeds and Rooibos Matcha Powder and stir well.
4. De-stone your nectarines (and dates, if they're not already pitted) and chop super finely. Or, better still, blend in a food processor to create a jammy paste.
5. Stir this into your mix, add the lemon juice and almond butter and keep stirring. Note: you're looking to create a firmish mixture. It's meant to be sticky rather than wet. If it's the latter, add more oats.
6. Line a baking tray or dish with baking paper. Start spooning out half a handful of mix and shape into a rounded dome. Place each on your tray ensuring there's space in-between.
7. Bake for 20 minutes or until firm on the outside. Keep an eye, you don't want them to burn!
Serving suggestions: eat pre-workout or alongside a mug of Rooibos Matcha tea as a mid-afternoon snack. Add a slice of fresh lemon to the latter for extra zest. Alternatively, slice in half and drizzle with extra almond butter. You can also pop these in a little tub or zip-lock bag to fuel your summer travels.
Looking for more health advice? Want to win some superfood? Fancy some discount?! You'd better join our mailing list before 10am, Thursday 30th June!