The Clean Eating Mamma's Blueberry & Acai Smoothie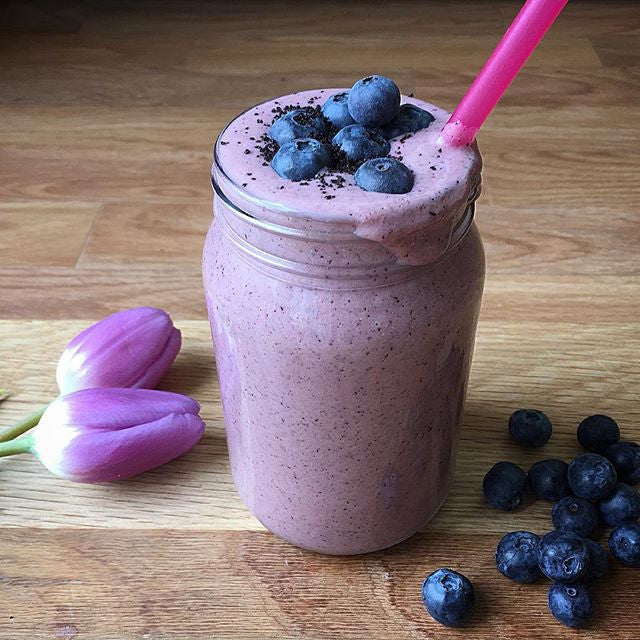 Ingredients
45g avocado
300ml almond milk
3 frozen blackberries
50g fresh blueberries
1 tsp acai powder
1 tbsp baobab powder
1/2 tsp maca powder
20g chia seeds
Ice
Recipe
It's always a joy to find a recipe tag from Michelle, who you may well know as blogger and Instagram hero, The Clean Eating Mamma! As you may gather, Michelle balances her love of nutrition and fitness with her life as a busy mum.
One of many to be afflicted by IBS and dairy intolerance, you'll find Michelle charting her foodie and smoothie loves, and 'Lean in 15' journey, through her feeds.
We love the colour, the all-round positivity and celebration of what a great smoothie can do! So, it's an honour to share one of Michelle's recent smoothies with you all. It comes inspired by the aforementi0ned Lean in 15 – a 'fats me up' breakfast smoothie that'll have you feeling sprightly, looking lean and staying full enough to avoid sugary temptations!
Quantity: serves 1
Step one of one: mix all ingredients in your choice of blender, or make like Michelle and blitz in your Nutribullet! It's so easy to stay healthy!
We'd love to see you enjoying your Blueberry & Acai smoothies at home and on the road. Be sure to tag @minvitauk and @thecleaneatingmamma on Instagram! You can also follow Michelle's Twitter feed and blog, thecleaneatingmamma.com, where you'll find thoughtful posts on family, food and fitness.
Full credit to Michelle for sharing her latest post, 'Autism…A different journey'.
Inspired by the work of healthy mums? You'll love last month's Minvita mail, which celebrated family wellness. Be sure to get on the list, before our June edition goes live! Thanks again to Michelle for being such a star.