Strawberry & Chia Pre-Workout Smoothie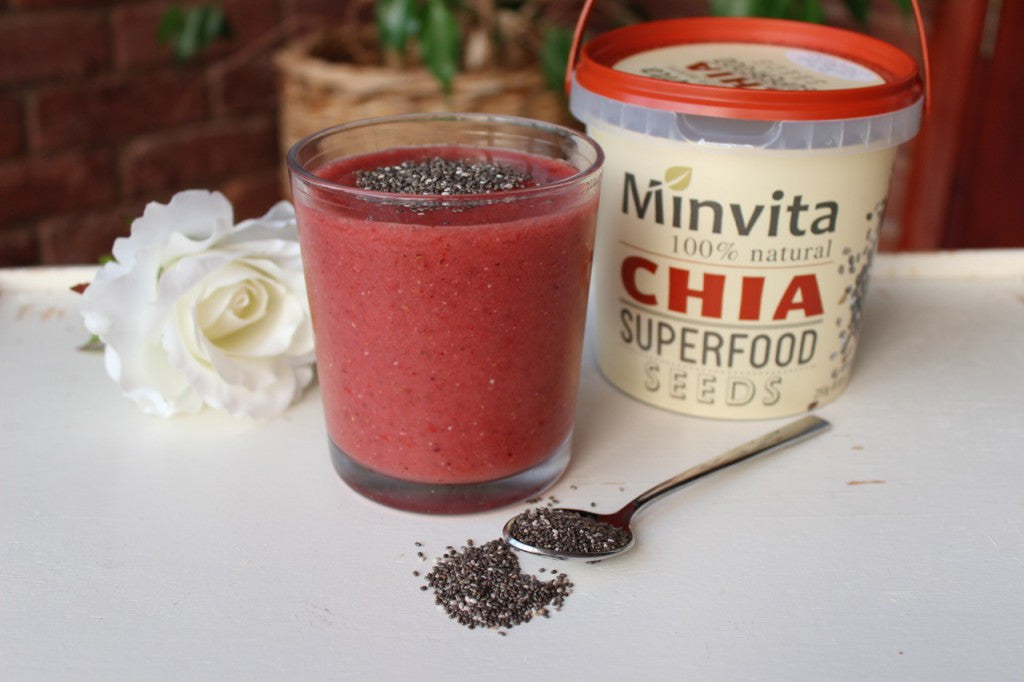 Ingredients
1 tbsp Minvita Chia Superfood Seeds
1 cup strawberries (fresh or frozen)
1 frozen banana
1 cup water
Recipe
During a workout, your body requires fuel to enable it to effectively burn fat and gain muscle. A liquid snack, such as a smoothie, can help to reach your potential during each and every workout meaning that you see better results, quicker. Chia seeds pack an energising punch and work brilliantly, adding not only a great taste and subtle 'bite' to your smoothies but Omega-3, calcium and iron, too. High in immunity-boosting zinc, our Chia Superfood Seeds are 100% natural and own the potency needed to give you an extra boost during your workout. Combine that with the refreshingly delicious taste of vitamin-rich strawberries and you've got yourself an incredible pre-workout snack!
Try drinking this smoothie an hour before aerobic exercise such as distance running, jogging or cycling etc, and half an hour before anaerobic exercise such as weightlifting or sprinting etc.
1. Add all of the ingredients to your blender and blitz until creamy and smooth – it couldn't be simpler! You may want to chop your frozen banana into 4-6 pieces beforehand for easier blending. Frozen strawberries will give a thicker texture, or you can use fresh if you prefer. As for our Chia Superfood Seeds, you can add the entire tablespoon into the smoothie, save it for the topping or follow our lead – we go half and half, popping in 1/2 a tablespoon to the actual smoothie and sprinkling the other 1/2 over the top. Perfect!